wineries .





R I E S L I N G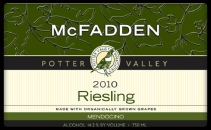 99 MCFADDEN


2010 Riesling
Potter Valley - Mendocino $18
This is everything a New World Riesling should be. The aromas jump from the glass, with inviting peach, pear, stone fruit, pineapple, green apple and grapefruit/citrus enveloped in floral spices and light touches of petrol. This wine has character! Itís a superb sip from beginning to end. If you want to taste what Mendocino Riesling is all about, buy this wine!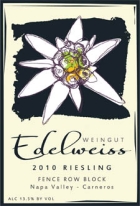 98 EDELWEISS
2010 Riesling
Fence Row Block - Napa Valley - Carneros $22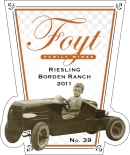 95 FOYT
2011 Riesling
No. 39 Borden Ranch - Lodi $30
Nice peach, pear, apple, grapefruit and apricot fruit aromas, with light honey, petrol and floral spices. This well-balanced wine has a wonderful balance of acidity and sweetness, offering a crisp, off-dry palate leading to a long finish.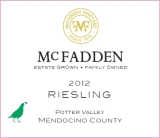 95 MCFADDEN
2012 Riesling
Potter Valley - Mendocino $18
Light petrol notes introduce peach, pear, apricot and red apple aromas complemented by floral spices. An old-world-styled wine, well balanced, and nicely crafted, the palate has a crisp acid feel, and the finish is nice and long.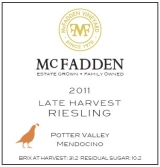 94 MCFADDEN
2011 Late Harvest Riesling
Potter Valley - Mendocino $18/375ml
Pretty floral/blossom notes mingle with apricots, honey, peach skin, pear, mango and apple rind. Nicely balanced, smooth and sweet, with a full mouthfeel and a nice lingering finish.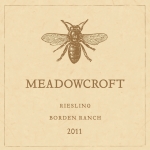 93 MEADOWCROFT
2011 Riesling
Borden Ranch - Lodi $26
Crisp peach, pear, apricot, green apple, lychee and grapefruit, with some floral blossoms, minerals and light petrol. Nicely balanced, the aromas come through on the palate, leading to a nice, long, lingering finish.