wineries .





G E W U R Z T R A M I N E R


2010 Late Harvest Gewurztraminer
Estate Bottled - Russian River Valley $24/375ml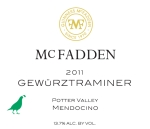 97 MCFADDEN
2011 Gewurztraminer
Mendocino $16
This is a much fresher example of the 2009. Very consistent in floral spices/blossoms, honeysuckle, white pepper and hints of ginger that complement peach, apricot, red apple, pear and stone fruit. Crisp, clean and very refreshing, this wine is well-balanced and offers a wonderful lingering finish.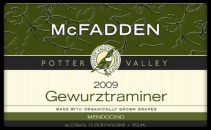 94 MCFADDEN
2009 Gewurztraminer
Mendocino $16
Floral spices/blossoms, honeysuckle, white pepper and hints of ginger complement peach, apricot, red apple, pear and stone fruit. Off-dry, this is a mature wine showing nice fruit and secondary characteristics leading to a pretty lingering finish. (Tasted 3/1/13)